Recognizing that Latin America possesses a unique history and a rich diversity of cultures, Teresa Tufano founded the Latin American Folkloric Group in 1989 as a means of exposing the public to the wonders and diversity of Latin America through music, dance, and lectures about varied aspects of the region's cultures.
From its inception, The Latin American Folkloric Group has showcased Latin American cultures primarily through its musical and dance performances. These performances have taken place at varied ethnic festivals held in Baltimore and at special programs organized by hospitals, high schools, military bases, and private organizations located in Maryland, Washington DC, and Virginia.
About Us
We are a group of people from different nationalities and backgrounds whose purpose is to preserve ethenic traditions of Latin America for future generations by sharing and performing traditional song and dance.
The principal values that all the participants of the group have, are commitment, responsibility, dedication and the true desire to share with pride and honor what each culture is all about.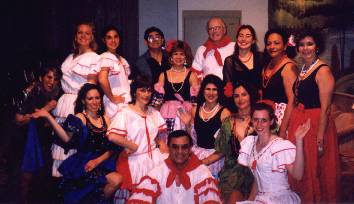 Group picture of 1999 cast
Guillermo Castaneda in the center of picture with part of the group during a presentation getting ready for the Millenium Era.
Teresa Tufano (Founder) and Guillermo Castaneda (President) brought The Latin-American Folkloric Group to the Millenium with a good image after giving hundreds of presentations in our community and surrounding areas.
The group has great expectations for this new year and kindly appreciates all the support from the Hispanic community. The group is also recuiting people that would like to share their culture in an artistic way with the community at large. For more information please contact Ms Pacheco at the numbers below.
The leaders of the group in the new millennium are:
| | | |
| --- | --- | --- |
| Guillermo Castaneda | President (Honorary) | castair@aol.com |
Some of the group's repertoire of dances include:

1. Colombia: Cumbia, Fandango, and Pollera Colora
2. Ecuador: San Juanito
3. Cuba: Yayabo, and Rumba
4. Peru: Festejo, Huayno, Waltz, and Marinera
5. Puerto Rico: Plena
6. Dominican Republic: Merengue
7. Chile: Cueca
8. Venezuela: Joropo
---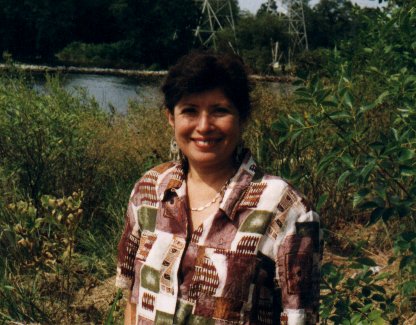 Teresa Tufano founder of The Latin-American Folkloric Group
---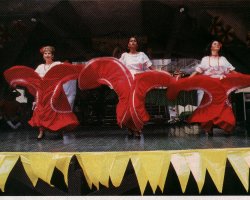 Dancers performing the La Cumbia of Colombia
Dancers performing The Joropo from Venezuela.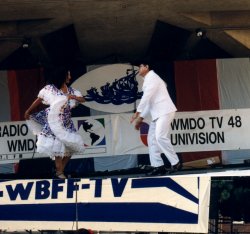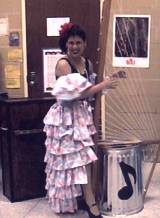 Vanessa showing a Rumba Costume from Puerto Rico.
Dancers performing "Mosaico de Ritmos Cubano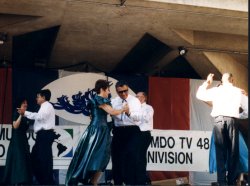 Dancers performing The Waltz from Peru.
Dancers showing the Cumbia dress and steps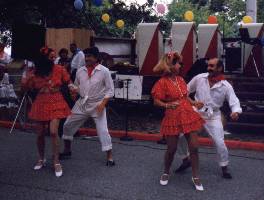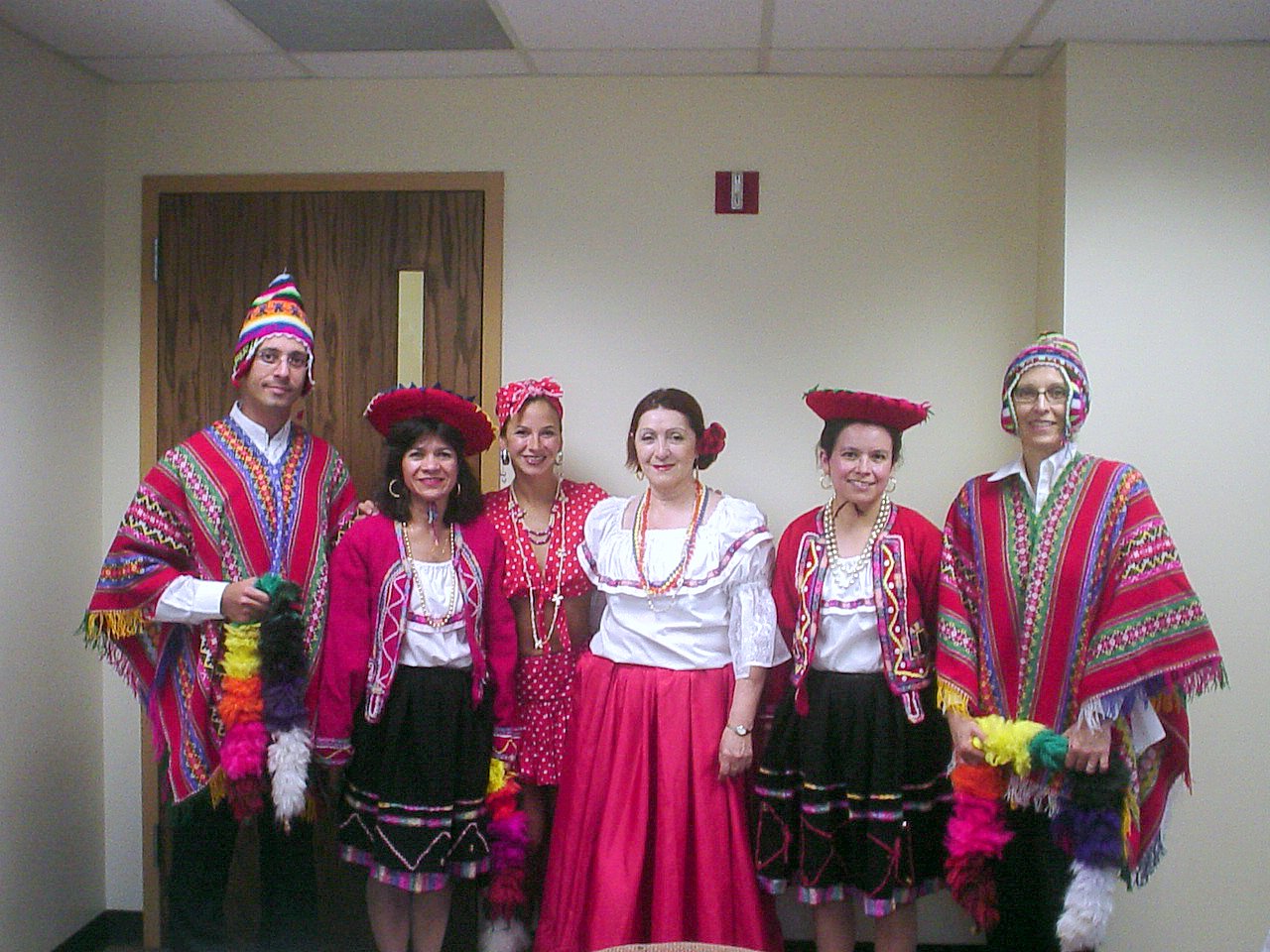 A group picture before a performance.
Group performing at Veteran's hospital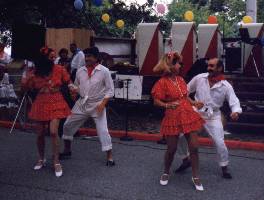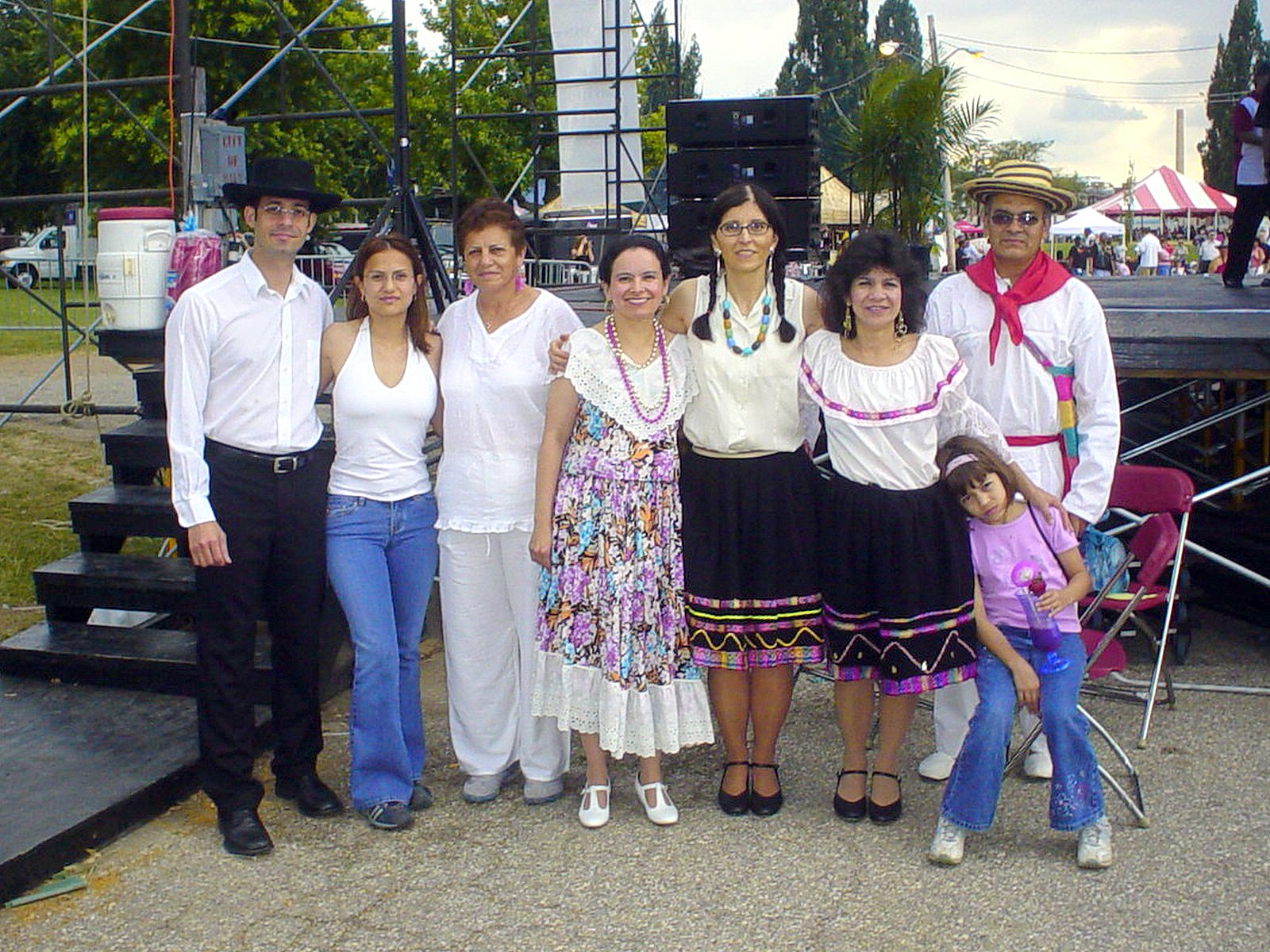 Group and family members together before a presentation.
Dancers performing La Cumbia of Colombia


Dancers performing the Joropo from Venezuela




Dancers performing Mosaico de Ritmos Cubano

Dancers performing

t

he Waltz from Peru
Fandango En Baltimore Festival 2009
Cumbia En Baltimore Festival 2009
Pollera Colora Baltimore Festival 2009
PRESENTATIONS:
Maryland Public Television
Baltimore Museum of Art
Seton Keough High School
Morgan State University
New Baltimore City Community College
Essex Community College
Towson University
Catonsville Community College
East Baltimore Latino Organization
Federation of Hispanic Organizations
Circulo Cuban de Maryland
Spanish-American Social Center
Spanish Fiesta
Towsontowne Festival
Baltimore City Fair
Baltimore Arts Festival - Art Scape 1992 & 2007
Columbia Mall Merchants Celebration
Montgomery Village Festival
Gaithersburg Festival
Piedmont United Way Virginia
University of Maryland Baltimore County
Social Security Administration Hispanic Heritage Month Celebrations
Department of Economic Employment and Development
Baltimore County Humanitarian and Community Services
Edgewood Heritage Celebration Week
University of Maryland College Park Carnival Celebration
Allstar Baseball Game Streetfest Celebration
Veterans Hospital